On 5th March 2019 at the 89th Geneva Motor Show,
Porsche
launches three new sports car models The highlight however is the new 911 Cabriolet. A new and improved design that puts a modern twist on the classic 911 models. "With each new generation of the 911, we face the challenge of enhancing our iconic car carefully and yet consistently to meet the needs of the future," says Oliver Blume, Chairman of the Executive Board of Porsche AG.
911 Carrera S Cabriolet Specs:
Engine
: 3 Liter Flat Engine with Twin Turbo
Horsepower
: 331
Torque
: 530
Acceleration
: 0-100 km/h in 3.7 seconds (sport plus)
Top Speed
: 306 km/h
Drive System
: All Wheel Drive The 911 Carrera S Cabriolet transmission is equipped with a new eight-speed dual-clutch . Not that people in UAE would frequently use but it comes with a handy Porsche Wet mode for safer handling on wet roads.
Infographic below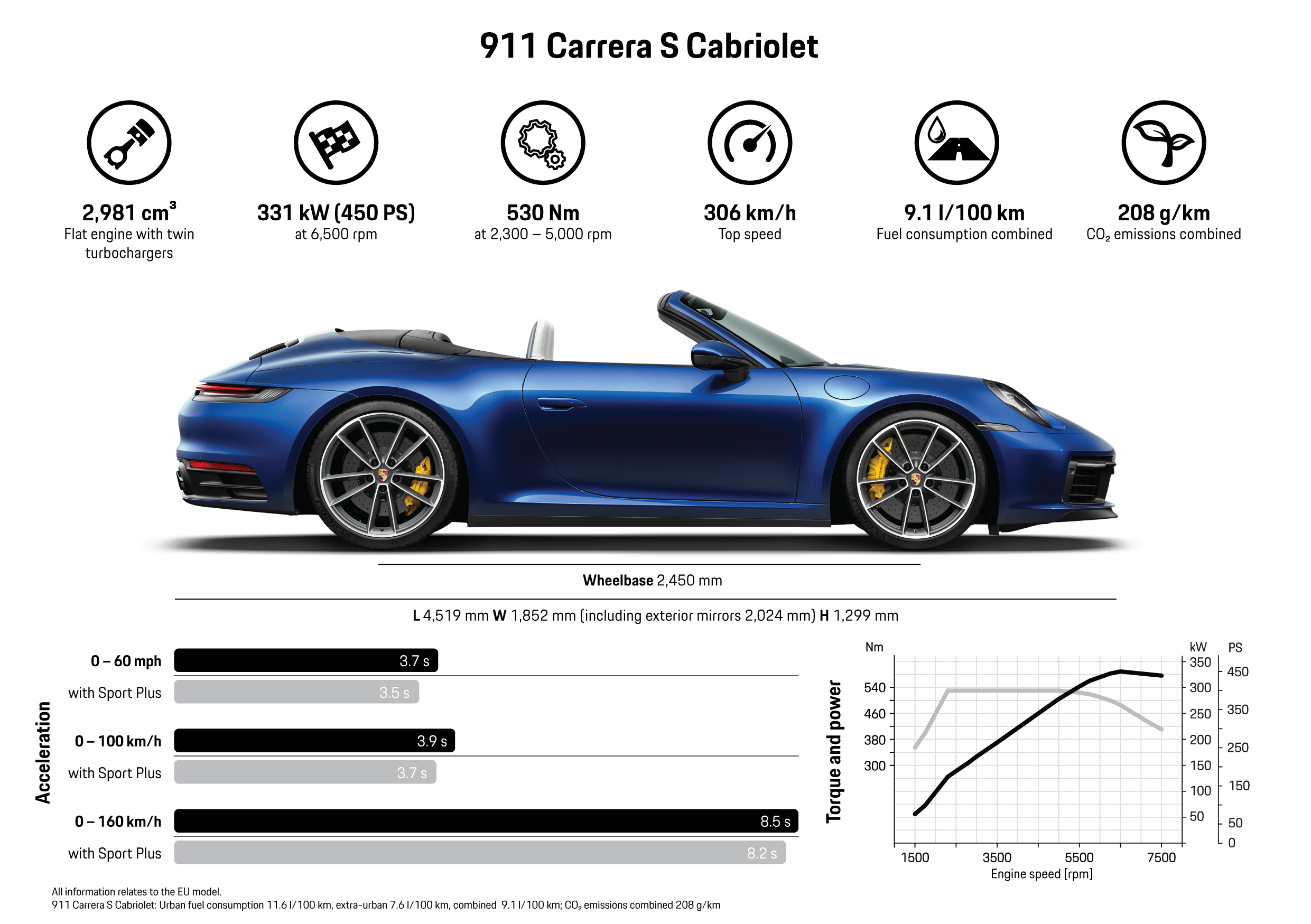 Newest in the long line of open-top Porsche models, the Porsche Carrera S Cabriolet first appeared in the 911 family more than 30 years ago. Even today it continues to symbolize the uniquely intense driving experiences Porsche is known for.

Porsche has put in a lot of work in optimizing the weight of the soft top element of this car making sure it now takes just about twelve seconds to completely fold away. A new hydraulic motor has been employed for this task that closes the soft top back up with the same swiftness too, even while cruising at speeds of up to 50 km/h. The high-tech structure of the soft top is made predominantly from magnesium which prevents the roof from ballooning even at high speeds. This is the 70th consecutive year Porsche has participated in the Geneva Motor Show with its first appearance in 1949.