The CLA is a four-door premium Coupe in the mid-size segment.  Before we start talking how great this car looks and the driving pleasure, let us first look at the specs of the Mercedes-Benz CLA 250 Coupe.
Specs:
Engine: 2.0L – L4 Horsepower: 211 (at 5,500 rpm) Torque: 350 Nm (at 1,200 – 4,000 rpm) Acceleration: 0-100 km/h in 6.5 seconds Top Speed: 240 km/h Drive System: All Wheels 4Matic Wheels: 18 inches Tail Lights: LED High Performance
Exterior Design:
The Mercedes-Benz CLA 250 coupe is built on arcing profile. It sports bold and dynamic lines,  sculpted surfaces and a shiny diamond grill. The Coupe's singular style has been honed and refined. Modifications in design mean that all models now feature new-look front and rear bumpers, as well as a twin-pipe exhaust system with trapezoidal tailpipes in polished stainless steel. The upgrades don't stop there, re-profiled headlamps, aerodynamic front wings and sleek lines combine to give the CLA all the hallmarks of a sports Coupe.
Interior Design:
The interior is honed with fine chrome elements and the new seat covers from an optional
Exclusive package
. The 20.32 cm (8-inch) Media Display available for the multimedia systems completes this perfectly composed view with a thinner frame. From the twin-tube instrument cluster and cruciform air vents to the tablet display, the CLA cabin combines striking design with exceptional build quality.
The Engine:
The 4-cylinder petrol engines featured on board the CLA 250 4MATIC Coupé boast direct petrol injection, variable valve timing and turbocharging, and perform sterling work. The Mercedes-Benz third-generation high-pressure direct injection with precise piezo injectors and the enhanced spray-guided combustion process enable virtually total combustion and thus higher efficiency, which means that the fuel is used more efficiently.
Features to watch out for:
An
ambient lighting system
featuring twelve colours conjures up a unique sense of wellbeing in the interior. Especially at night, it accentuates the contouring and high quality of the interior, imparts a feeling of comfort and security by conjuring up an impression of spaciousness and reduces dazzle from oncoming traffic. With its large glazed area, the
electric panoramic sliding sunroof
ensures a particularly bright and welcoming ambience in the interior. An electric roller sun-blind can shade the vehicle interior if the sunlight glare is too strong. The glass roof is lowered at high speeds, reducing the noise level and air circulation in the interior. Conversely, it raises itself again at low speeds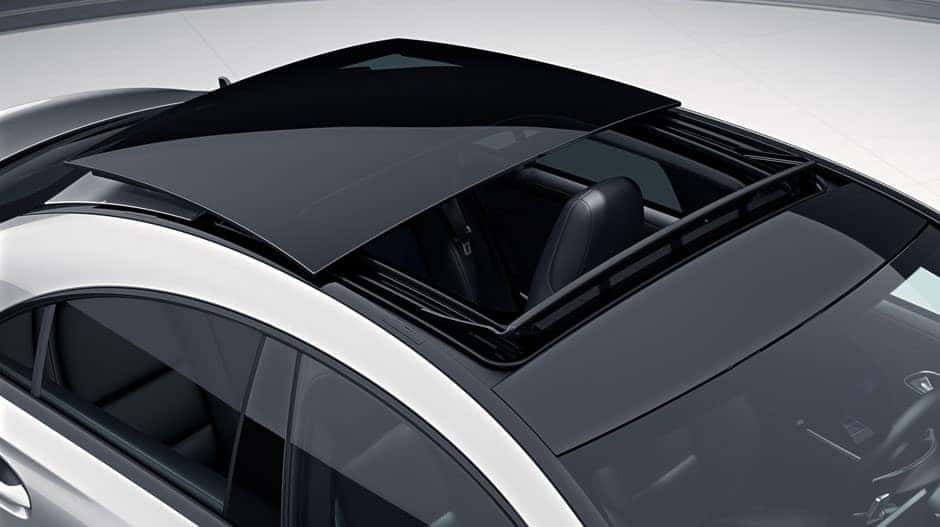 Performance -

/10

Driving Pleasure -

/10

Look and Style -

/10

Fuel Economy -

/10

Value for Money -

/10
Review overview
The Pros
Elegant, Expressive Style
Good Acceleration
Impressive Handling
The Cons
Rear seating only good for children
Not smooth over road bumps
Summary
8.1The CLA thrills new, more modern and younger target customers and has the potential to become a design icon.